Trophy Mule Deer

- Eastern Plains of Colorado
Hello and welcome to Mule Deer Hunting on the Scenic Eastern Plains of Colorado



We are looking forward to our 18th consecutive hunting season on the Eastern Plains in Colorado. Here at Kiowa Creek Outfitters our deer quality continues to improve. While we target 175"+ bucks, we continue to drop several world class Muleys every year.
​
Dan - "My lifelong passion for hunting and guiding on Mule Deer Hunts in Colorado is my dream come true. My guide team shares your desire for a quality hunt catered to your style of hunting. We are all dedicated to not just filling your tag with a quality trophy but delivering results. We are lifelong hunters and experts in knowing our Mule Deer habits. We live and breath Big Game Hunting on the Eastern Plains. Come join us for a Mule Deer experience you will never forget"

Now is the time t
o secure and book your Eastern Plains Mule Deer Hunt of a life time - call me now!


Email or Call Today....Limited 2018 dates available.

Dan-Ardrey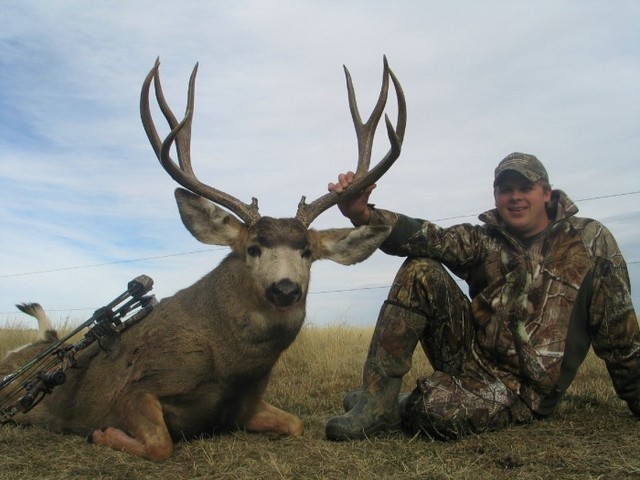 We love to talk about Hunting, and if you do too, call me and we can tell you all about our quality hunts or give you the number for the Hunter's you see here and you can get it from them. Most of our clients are repeat customers for a reason...
Eastern Mule Deer Page.
Kiowa Creek Outfitters
Call Dan NOW!
We Have A Couple Of Spots
Available For The 2019 Season.




Mule Deer Hunts In Colorado - we target Big, Mature Eastern Plains Mule Deer Bucks scoring over 175", Eastern Plains bull elk over 275", and Eastern Plains Pronghorn bucks 13" to 14" plus. We have more than 60,000 acres of quality Eastern Plains private ranch land leased and managed exclusive for hunting Big Mature Animals.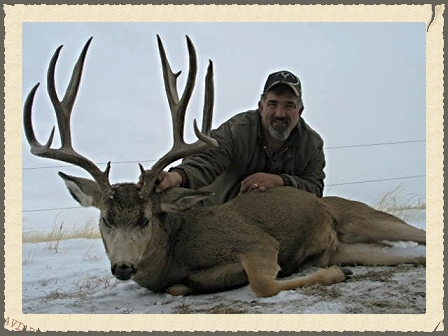 Our Eastern Plains Mule Deer operations encompasses over 60,000 acres between 24 different private ranches ranging in size from 400 to 27,000 acres spread out over a vast area. This allows us to hunt several types of terrain as the animals migrate for weather and feed. There are no high fences or pens here so we manage our wild resident herds by knowing our properties and
targeting
only the most mature, big bucks we can locate..
You can expect small camps of 4-6 hunters per week which allows our guides to tailor the hunt around the needs and desires of the hunter on his hunting trip. With so much land to choose from we have the luxury of not having to over hunt any one ranch. Our success rates over the years has been very good for Mature, Trophy Mule Deer. Our rifle deer hunters have had over 95% success with our archery deer hunters having somewhat lower success of 50% over the past 13 years.
We would like to invite you to the Eastern Plains of Colorado for the quality Mule Deer Hunts on private land hunt you've been dreaming of. As experienced Colorado Outfitters we offer fair chase hunts for Elk, Mule Deer, Whitetails and Pronghorn Antelope on some of the best lands available anywhere in Colorado. The genetics and age class of our herds are exceptional, giving you an opportunity to fulfill your trophy quests.

Our guides are trained and passionate about making your hunting experience unforgettable. It doesn't matter if you are an archery, black powder or rifle hunter, we will give you 100% effort and dedication every time. Just remember, we are a small volume outfitter with a lot of repeat clients so don't delay in booking your hunt. We're also very concerned about conserving this wonderful resource for generations to come. Careful private land management allows us to closely monitor and manage the health of our herds. We won't over-hunt our ranches and we're dedicated to harvest only the oldest, most mature Mule Deer we can find allowing the smaller bucks to reach their true trophy potential. We don't have record book deer under every bush but will do everything in our control to fulfill your dreams in what a trophy means to you. The big bucks are here - The questions is... What are you waiting for? Call and let's book your hunt today!!

2019 Mule Deer - Whitetail Deer Rates

Rifle - $7000 - $7500 - 5 Day Hunt.
​
​Archery - $6000 - 5 Day Hunt.
​
​Muzzleloader - $6000 5 Day hunt


Pricing includes all meals, guiding and lodging.



Call Me...Dan Ardrey for questions or dates
303-648-3273

Combo Hunts Available...call for more details!
Eg: Elk & Mule Deer



Colorado Game Tag cost are the hunters responsibility. We can assist in application or land owner tags for clients call for more details, Dan.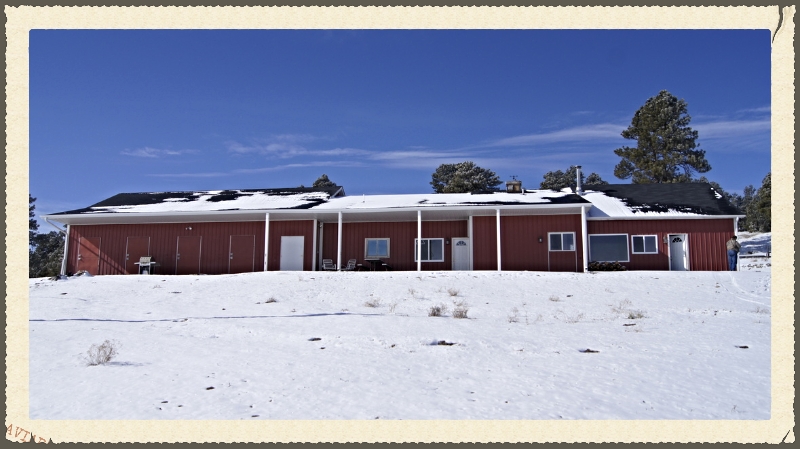 We feel very fortunate to live and hunt in Colorado Eastern Plains in an area that grows some of the biggest mule deer, whitetail, antelope and elk in the country, and we truly enjoy sharing that experience with others.

Our Lodge - You will stay in our spacious lodge located in South Eastern Colorado. The well appointed lodge can accommodate a group of up to 6 hunter. Modern well appointed kitchen and dinning area with 2 bathrooms and showers for the 'rush hour'.

A huge big-screen TV lounge room with Satellite TV with all the hunting and sport channels with panoramic views over the Eastern Plains.

Mule Deer Rifle Checklist
** Rifle sighted in 1-2" high at 200 yards
Ammunition 40 rounds
500 square inches of blaze orange
​
* Please be sure to get out and practice ​- We pride ourselves on trophy animals and never want to see them get away wounded.

** ​The majority of our shots are 200yds or under on standing animals but... These are free ranging animals and they don't always play by the rules - Best to be a proficient shot to increase your odds.​
Bow and Accessories Checklist
​Spare arrow rest - Spare sight pins
Spare cables, wheels, etc...
Extra string - String wax
Spare release or finger tab
Arrows - Hard Arrow Case
Camo, face paint or head net
Tree Stand Safety Harness​

List for Rifle/Bow/Muzzle Loader Hunters
Well Broken In Leather or water proof comfortable boots
Snow Packs
Long underwear
Several pairs of socks
Gloves light and heavy
Light Coat
Heavy Coat
Rain - Wet Weather Gear
Wool clothes are recommended for warmth and quietness
Sleeping Bag rated to at least 0
Toilet articles
Canteen
Day pack and/or fanny pack
Quality Binoculars - Camera
Blaze orange must be worn anytime you are hunting.
Both a orange vest and hat are required.
(solid orange hat and vest no camo orange)
Mule Deer Muzzle loader Checklist
50 cal. or larger Muzzleloader
Inline muzzleloaders are legal


Open sights only

.........
No scopes or other sighting devices
Bullets 170 + grains for .50 cal 210+ grains for .50+cal
Sabots are prohibited
Black Powder or black powder substitutes (no smokeless powder)
Dons Taxidermy Colorado Springs CO.
Don has been doing quality Mule Deer Taxidermy for more than 20 years. He grew up in Colorado around wild life.

His mounts are beautiful and life-like. He will work with you and advise you about the different mounts available. Your mount will come to life and it will be a piece of art that you can display proudly for years.

You will always remember the thrill of that day when you look at your mount.